Simple donkey- rent
4 or 5 days

From may to october

Altitude from 700 to 1700 m


Departure  and arrival at Unac
Here is a loop in mid-mountain, with very open landscapes and feasible most of the year. A hike in the peaceful Pyrenees, through sweet summer pastures, forests and small villages with the promise of magnificent views of the Pyrenees and the foothills every day.
your trek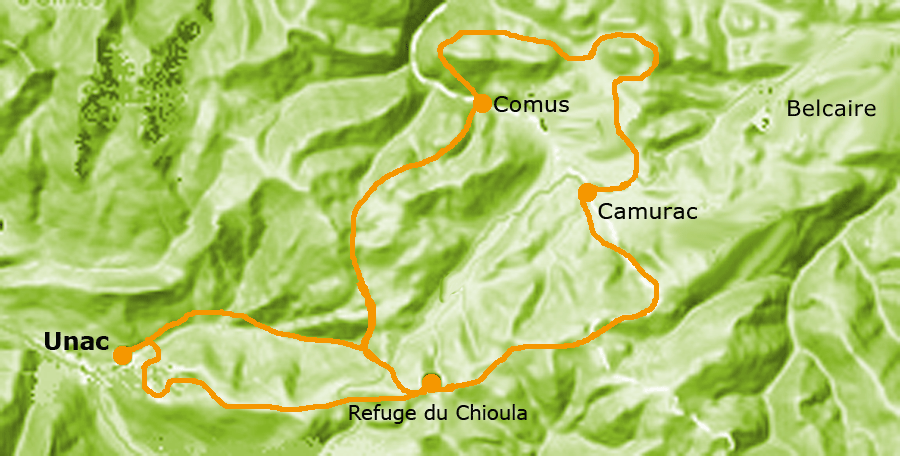 The departure is from the farm at Unac. After a good shaded climb, you reach the magnificent site of Chioula. The next day, if the weather is favorable, you rejoice Camurac by the ridges, in open landscape. The next day, as soon as you leave the village, you will discover little treasures of nature: Les Cols, lPla du Boum. You can even enjoy a panorama on   Montségur Castle;.
You are staying at Comus gîte. Then you will discover the mountain pastures of Prades, during a fairly long stage (5h), but without technical difficulty. You reach Chioula refuge. On the last day, you follow the ridges of Chioula and go down to the villages: Tignac then Unac.
The stages of the first and last day are sporty because they have a significant height difference (900m). On these two stages, children cannot ride on the donkey in the steepest parts.
This circuit is therefore recommended for children aged 7 and over.
All inclusive package, half board or full board
Télécharger la fiche rando