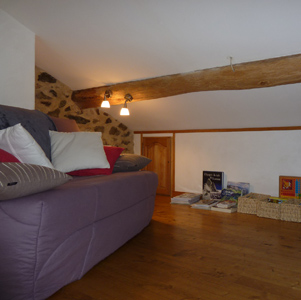 Special offers over the seasons
Our prices include an average power consumption (daily amount of 8 kWh) and an outbreak of wood in winter. Additional services are available. A guarantee of 200 € is requested at the beginning of the stay.
According to the moment *, and also for long stay *, you can benefit from special offers.
5% discount, to the rental of 2 consecutive weeks*.
10% discount, to the rental of 3 consecutive weeks*.
Availabilities :
Visit the website of the gite to see availability of the gite.
Renting from Sunday to Sunday
During the summer (from 12 jully), all arrivals and departures will be on sunday : we hope it will be a way to facilitate your travel. You can call us if you have questions about this calendar.
Several ways to RESERVE :
By contacting us directly by telephone: 33 6 51 07 47 40 or 33 6 86 47 62 05 or by

This email address is being protected from spambots. You need JavaScript enabled to view it.

Contact the Gîtes de France reservation service (33 5 64 25 05 67 or

This email address is being protected from spambots. You need JavaScript enabled to view it.

) indicating the reference of the gîte: 09G10101. (20 euros of application fees)
Directly online: see panel below (+20 € administration fee)