"I always wanted to walk in Ariège" Estragon in "Waiting for Godot" - Samuel Beckett - 1953 
A dream, an adventure, walk in Ariege.
Large puffs of air, a few drops of freedom ....
Walk in these mountains, vast and yet preserved, frequented and used by men since immemorial time . Crossing mountains with grazing cows, sheep and horses, meeting the shepherds and cowherds, stopping beside a lake or stream to cool off. Meet those who live and work here, villagers who greet you friendly, hosts preparing the evening meal, farmers leading their animals or harvesting hay for the long winter season.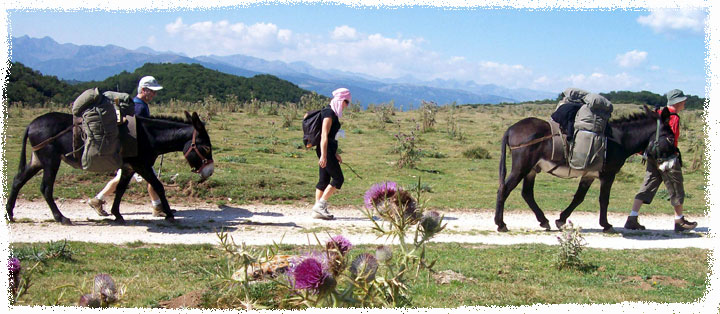 Walking with a donkey... holidays like no others that will leave wonderful memories.
This is an opportunity to be together with family or friends, to dream, to discuss.
The donkey is the friend of the toddler but it is also the confident of teenagers who like to take care throughout hiking.
For the (old?) tired backs, it's a new form of hiking, a serene touch with this gentle animal.
For those who like treks in autonomy in the high mountains, it's a perfect solution to carry the heavy bags.
It is also an original way to discover a region. With our advices, our excellent knowledge of our valley, of our mountains and of those who live there, you'll go to discover the heart of this country.
At the crossing of villages and farmhouses, donkey loosens tongues. For 20 years they traveled the country, the donkeys of La Ferme Aux Anes are well known to shepherds and people!
Our treks go through to the quiet Sault plateau, in our small Pyrenean valleys and in the vast mountains where you will meet nobody except, some lonely shepherd.
We offer different types of unaccompanied trips , from 1 to 7, 8, 10 days with different levels of difficulty (see our page to choose your trek).
You can camp near a source or sleep (and eat!) in gites or refuges.
1 day donkey-trek 2 or 3 days all inclusive treks 4 or 5 days all inclusive treks 6 or 7 days all inclusive treks Simple rent of donkey 2-3 days Simple rent of donkey 4-5 days Simple rent of donkey 6-7 days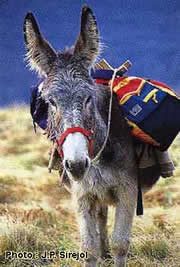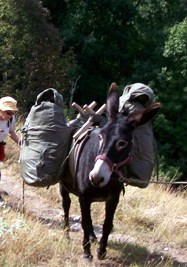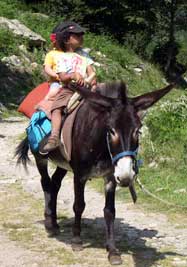 The donkey carries 40 kg and walks regularly at around 4 km / hr.
It is equipped with a packsaddle, a kind of wooden seat on which you hang your bags, a halter and a lanyard.
Before you leave, we give you the advice to load and nourish your donkey, and all the details on your way: the good places to camp, the junctions where stunned must be vigilant, fresh springs .....