Hardy, brave, agile in mountains, the Pyrenees donkey has been used in the past for plowing and transport. On those terraces with light soils, it was well adapted.
He was a champion to climb rocky trails that connected the villages. He carried the wood and hay and pulled the cart to go to the city.
It is these qualities that will make your ride enjoyable.
Its dress is black or dark brown, its nose, its belly and around the eyes are white. .

We have mainly Pyrenees donkeys. There are too, some gray donkeys and other types of "Provence". If they are gentle and courageous, they make career at La Ferme Aux anes!
They are kept outside, with open shelter, where they may go at their discretion. When snow falls, we let them a few days inside but as soon as the sun shines, they go outside.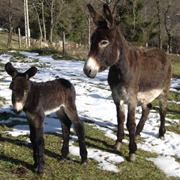 Colt and its mother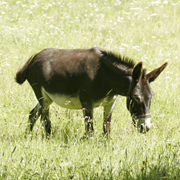 Framboise, Pyrenean donkey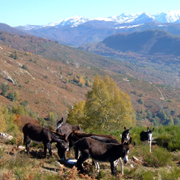 Autumn grazing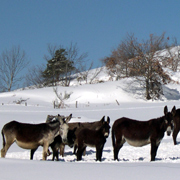 Sun and snow
The females give birth in December-January.
The little donkey remains with its mother until it is 6 months old. Then, it is weaned and begins to become familiar with humans. His education to packsaddle begins between 3 and 4 years.