kid and donkey
kid and donkey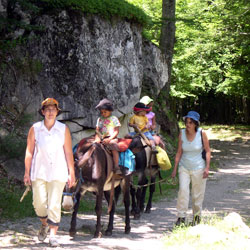 At each age, a different pleasure
A trek with a donkey  is a great experience for all , especially for children.
For a small child, donkey will be "meeting" of the holidays: an important event of which he will speak for months.
An older child will also be sensitive to the discovery of the mountain environment, he will watch the marmots, and birds of prey, and fish in the creek.

A teen likes discovery of Nature and the sporty side of this walk.

To have a good trek, you must choose the gone adapted to your wishes, to the capacities of your family, especially children.
With a donkey, you don't not always go faster or farther, you walk differently on another rhythm.