All inclusive donkey- rent
2 or 3 days  
From may to october
Altitude from 700 to 1669 mm
Departure and arrival at Unac
This excursion leads you from Unac, in the bottom of the Ariege valley , to Chioula plateau , marvellous view-point from where you admire all the Pyrenees.
Quietly installed in those mountains, Chioula refuge is a friendly shelter.
your hike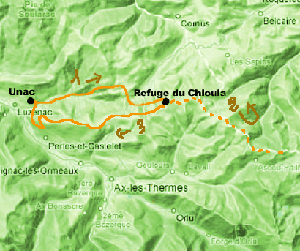 From Unac, located at the bottom of the valley of the Ariège you climb by a path in the undergrowth to the plateau of Chioula, wonderful belvedere where you admire the whole Pyrenean chain.Installed in the middle of these quiet mountains , the Chioula refuge is a small haven of peace.
During the second day you'll do a small or great walk, as you like because there is an important network of very easy paths on this area.
On the third day, you go down by a ridge path.
The first and the third day, slopes are rather important and the children can't ride the donkeys. That's why we recommand this hike if your chilcren are more than 7 years old.