All inclusive donkey- trek
4 or 5 days

From may to october

Altitude from 1000 to 1669 mm


Departure  and arrival at Prades (09110)
It is a hike without technical difficulty, accessible to toddlers. It crosses small villages, magnificent estives (the Pyrenean mountain pastures) or admirable forests, with breathtaking views. The Cathar history is revealed by crossing the village of Montaillou or by admiring the view on the castle of Montségur.
your trek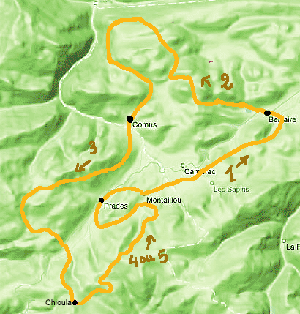 This trip is ideal for families wanting an easy walk: often on a pastoral path or forest trail (no big heights), young kids can stay on the donkeys' back or lead the donkey.
You discover magnificent mountain sceneries with mountain pastures or forests. You learn about Catharism history: Montaillou is dominated by the sparse walls of its castle. You will come across the tiny Aillou region, a 1200 m high plateau which shelters four villages. Finally, you will reach the grassy mountains and forests of the soft Chioula Plateau. You come back to Prades village which is both the starting point and the end of the trip.
Throughout your trek you will see the life of these gentle mountains: breeders, cowherds, herds of cows, sheep and sometimes horses.
This circuit appeals to the whole family.
The adults and teenagers will appreciate the diversity and the beauty of the landscapes. If the season suits, they will collect blueberries, raspberries or mushrooms.