Simple donkey- rent
2 or 3 days  
From may to october
Altitude from 950 to 1700 mm
Departure and arrival at Appy
Lake, quiet mountain, wilderness: perfect holidays!
Started from Appy, you rise gradually to the pond, by a sunny path discovering a superb sight on the high mountains of Andorra and Ariège.
The camping can be established near Appy pond .
your hike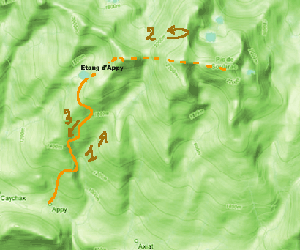 A dream holiday near a pond in the middle of the mountain. No possibility of accommodation, few people, the wild mountain ....
Leaving the village of Appy, you climb on the sunny side of the Tabe massif to the small Appy lake nestled between the mountains where you set up your camp.
The return is by the same route.
Progression by pouring south requires you to start early in the morning to avoid the heat.
On this itinerary, it is not possible to put the children on the back of the donkey.