Simple donkey- rent
2 or 3 days  
all year
Altitude from
700m to 1000 mm

Departure and arrival at Unac
Here is a 2 day tour, ideal for a spring weekend or to enjoy the autumn lights. This beautiful hike takes place in the middle of the mountains, on the trails that follow the Corniche, a glacial plate, located at 800-1000 m altitude and along which are laid all the small villages.
your hike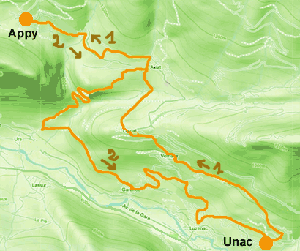 This quiet path goes between the dry stone walls that support the meadows on the sunny side of the valley of the Ariège. This loop, crosses three villages adorned with romanesque churches and passes by Lordat and its castle, perched on a promontory.
On the first day you climb quietly, by the path overlooking the valley of the Ariège, to Appy or Lordat (depending on the type of accommodation chosen).
On the way back, a delightful descent takes you back to the Ariege valley where you then go back to Unac.
If you wish to do 3 days of hiking, you will go up to the high mountain on the second day, following a track unto a pastoral hut from where you have a superb view on the massif.
This hike is easy, so children can ride the donkeys.