Simple rent
2 or 3 days

From may to october

Altitude from1250 to 1669 mm


Departure and arrival at  Prades (09110)
This loop circuit  is ideal for families wanting a ride without technical difficulty. You cross Montaillou village , set on the plateau of Aillou, at 1200 m altitude. Then, you climb  to Chioula plateau, a wonderful belvedere from where you admire the  Pyrenean mountains.
your hike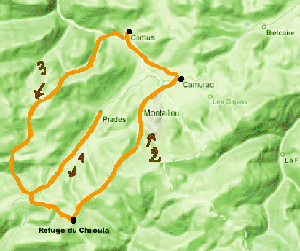 This trip is ideal for families wanting an easy walk : often on a pastoral paths or forest trail (no big heights), young kids can stay on the donkeys' back. Short walk every day.
You will cross the grassy mountains and forests of the soft Chioula Plateau with spectacular views on the Pyrenees.
You will come across the tiny Aillou region, a 1200 m high plateau which shelters four villages; among them Montaillou is dominated by the sparse walls of its castle.Prades village is both the starting point and the end of the trip.
Recommanded if yor children are less than 8 years old: you'll feel as if you are in the high mountains without difficulty.
An accomodation is possible at each step of the trip. If camping in the wilderness, you can pitch your tent near the springs we recommend.
Download the technical leaflet